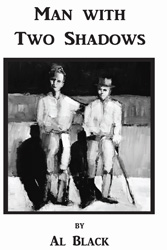 Man with Two Shadows
Al Black
$12, AVAILABLE NOW from Muddy Ford Press.
---
In this book of poetry, Al Black takes the reader along on his own personal path to the death of a parent – a journey all of us ultimately take. As Black grieves for his father's passage, his poetry still rises hopeful and full of the kind of wisdom that can only be won by deeply engaging in the experience of a parent's death.
---
Praise for Man with Two Shadows
"This is a book filled with small, liminal moments, a book of doors and walls and windows, of waiting rooms and phone calls, of moments shot through with the hurts of the past, but bent and remade to the demands of the present and the inescapable future….Gathering together what he has learned—of both language and love—Al Black has put together a gorgeous and heart-breaking collection that is a testament to the dutifulness and responsibility we feel to and for parents we find difficult to understand."
– Ed Madden, author of four books of poetry, including Ark, a memoir in poetry about helping with his dying father's hospice care.
---
Author Bio
Al Black is northern-born Southern poet and writer who hosts poetry, music, and workshops throughout central South Carolina. His work can be found in several publications and journals; he is the 2017 Jasper Literary Artist of the Year and is the co-founder of the Poets Respond to Race Initiative.