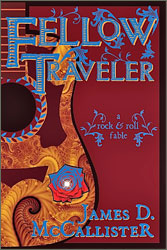 Fellow Traveler
James D. McCallister
$16.95 from Muddy Ford Press
---
Author Bio
James D. McCallister has worked as a media archivist, newspaper columnist, free-lance journalist, and small business owner. His fiction publications include two novels, King's Highway (Red Letter Press, 2007) and Fellow Traveler (Muddy Ford Press, 2012). A two-time South Carolina Writer's Workshop and SC Fiction Project awardee as well as a 2012 Faulkner-Wisdom finalist, McCallister has appeared at the SC Book Festival as a featured author and moderator, and teaches creative writing at Midlands Technical College. A lifelong South Carolinian, he lives with his wife Jenn and their beloved brood of a dozen cats, muses all.
---
Summary
In 1997, thirty long years after the Summer of Love, millions mourned the death of music legend Rose Partland, a tireless creative spirit who led her iconic band Jack O'Roses through the rigors of the rock & roll life, until the road finally consumed her—as though a devil had at last come for his due.
Of her legions of followers, none seems to suffer the loss of Rose more than Brian 'Nibbs Niffy' Godbold, who succumbs to his grief in a fashion similar to that of his idol—too young, too soon. Now, best friend Ashton Tobias Zemp must scour the journals and manuscripts Nibbs left behind, to seek a better answer to the question of his touring partner's death—was it an accidental overdose, or outright suicide?
When he begins to suspect the truth—that Nibbs Niffy went to his grave harboring an appalling and ruinous secret—Ash is forced to reconsider his own past . . . was he a 'real' fan like Nibbs, or merely a fellow traveler: a sympathizer, but without the bona fides?
---
What People are Saying About Fellow Traveler
"Lyrical, funny, and deeply touching, Fellow Traveler takes readers on a remarkable journey, with characters and scenes that claim America's recent countercultural terrain as a proper—and powerful—subject for literature."
—Nicholas G. Meriwether, Grateful Dead Archivist, University of California–Santa Cruz
"A truly charming and deft literary achievement—a magical, captivating work of fiction. Kudos!"
—Gary McKinney, Darkness Bids the Dead Goodbye
"Fellow Traveler blends the mythology surrounding the Grateful Dead, and other bands in their mold, with a genuine love for the culture and its place in society."
—Vincent Craig Wright, Redemption Center
Fellow Traveler made me laugh, cry, reflect and remember—Deadheads and jamband fans who read this book will have an eerie sense of having been part of the story.
—Rebecca Adams, co-editor, Deadhead Social Science