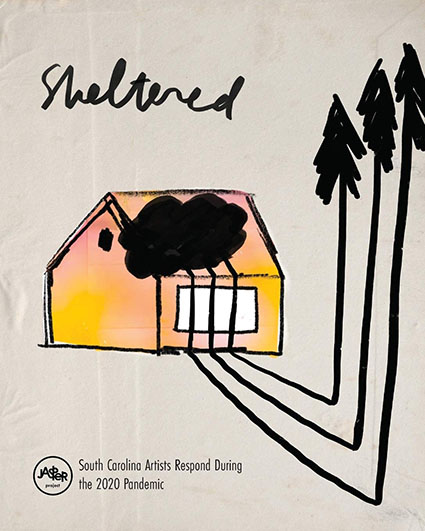 Sheltered
Cindi Boiter and Brian Harmon editors
$30, from Muddy Ford Press.
---
In this collection of visual and literary art, a selection of South Carolina Midlands-area artists both process and respond to the personal, social, and artistic challenges they faced during the mandatory quarantine resulting from the COVID-19 pandemic which began in the spring of 2020. From poignant to clever, these artists express the many and varied ways in which humanity answers the call to stay home, be safe, and take shelter.
---
Contributors
Al Black, Eileen Blyth, Cindi Boiter, Tim Conroy, Thomas Crouch, Carla Damron, Bonnie Goldberg, Lisa Hammond, Brian Harmon, Kristine Hartvigsen, B.A. Hohman, Lori Isom, Preach Jacobs, Michael Krajewski, Ed Madden, Laurie McIntosh, Ray McManus, Ginny Merett, Eric Morris, Bruce Nellsmith, Cassie Premo Steele, Jen Ray, Aida Rogers, Sara Schneckloth, Kirkland Smith, David Walton Smith, Claudia Smith-Brinson, Candace Thibeault, Wayne Thornley, Keith Tolen, Marius Valdes, Nicola Waldron
---
About the Editors
Born in Lexington, SC to a minister and surgeon, Brian Harmon studied literature at Wofford College. After several years abroad in Taiwan, China, and New Zealand during which time he illegally picked broccoli, tutored children, and adults in English grammar, wrote and produced a reality TV show in Chinese, and began a photography business, he returned to Columbia to complete a master's in media arts at the University of South Carolina. Conferment of this degree caused a slide into the pursuit of a Ph.D. in Rhetoric and Composition at USC. Still sliding, Harmon has currently stepped away from academia and is happily employed as a marketing specialist for a small mechanical engineering firm in Irmo. He lives with his wife and daughter in Lexington by a pond.
An instructor of sociology and women's and gender studies for more than 25 years at the University of SC, Cindi Boiter founded Jasper Magazine in 2011, the same year she and her husband founded Muddy Ford Press.
See Cindi's Full Bio