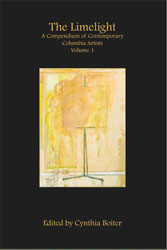 The Limelight: A Compendium of Contemporary Columbia Artists, Volume 1
Edited by Cynthia Boiter
$15 from Muddy Ford Press
---
Editor Bio
Cynthia Boiter is a six-time winner of the South Carolina Fiction Project, a three time winner of the Piccolo Fiction Open, a division of the Spoleto Festival in Charleston, South Carolina, a two-time fellow with the South Carolina Academy of Authors, the winner of the Porter Fleming Award for fiction and the W. W. Norton Flash Fiction Award. Her work has appeared nationally and internationally in Woman's Day, Family Circle, Southern Living, Parents Magazine, Parenting, Expecting, Sandlapper, and more. She is the former editor of undefined Magazine and the founder and editor of Jasper Magazine. She is an adjunct instructor in Women's and Gender Studies as well as Sociology at the University of South Carolina. A dedicated arts activist and grass roots organizer, Boiter is the proud mother of two grown daughters. She lives in Chapin, South Carolina with her husband, Dr. Robert Jolley.
---
Summary
In the first volume of this annually serialized book of essays, local writers and artists share narrative tales of some of Columbia's most illustrious artists.
Janna McMahan on Pat Conroy
Michael Miller on Chris Potter
Ed Madden on James Dickey
Aida Rogers on Gil Petroff
Ray McManus on Terrance Hayes
Cassie Premo Steele on Philip Mullen
Susan Lenz on Stephen Chesley
Don McCallister on Robert Lamb
Chad Henderson on Robert Richmond
Colina Corbett on Nikky Finney
Robbie Robertson on Vicky Saye Henderson
Cynthia Boiter on Blue Sky
Kristine Hartvigsen on Marjory Wentworth
Kyle Petersen on Danielle Howle
Alex Smith on Greg Leevy
August Krickel on Kay and Jim Thigpen
Bonnie Boiter-Jolley on Stacey Calvert
Jeffrey Day on James Busby
The Limelight – A Compendium of Contemporary Columbia Artists, Volume 1 – release date February 24, 2013. The Limelight is a collection of 18 essays written by Columbia authors and artists about Columbia authors and artists. Among the writers and subjects included in The Limelight are Aïda Rogers, Gilmer Petroff, Ed Madden, James Dickey, Michael Miller, Chris Potter, Cynthia Boiter, Blue Sky, Janna McMahan, Pat Conroy, Jeffrey Day, James Busby, Kristine Hartvigsen, Marjory Wentworth, Kyle Petersen, Danielle Howle, August Krickel, Kay and Jim Thigpen, Colena Corbett, Nikky Finney, Susan Lenz, Stephen Chesley, Cassie Premo Steele, Philip Mullen, Chad Henderson, Robert Richmond, Ray McManus, Terrance Hayes, Bonnie Boiter-Jolley, Stacey Calvert, Alex Smith, Greg Leevy, Robbie Robertson, Vicky Saye Henderson, Don McCallister, and Robert Lamb.