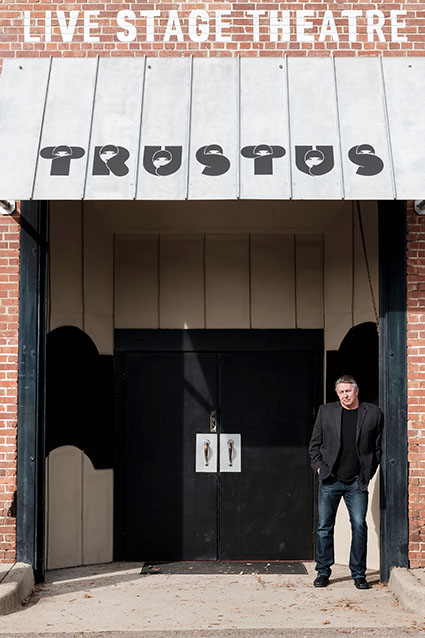 The Trustus Collection
By Jon Tuttle
With an introduction by Thorne Compton
$20, from Muddy Ford Press.
---
In this collection of six plays written by Jon Tuttle and performed at Columbia, SC's cutting edge Trustus Theatre over a 14-year period of time we trace not just the evolution of a playwright, but that of a theatre and a culture, as well. In his introduction, Thorne Compton writes that "In Jon Tuttle's world life is a confusing pile of colorful chips from a kaleidoscope that has long been smashed," and that "the fact that life is absurd and usually ends badly does not make it any less valuable …" From The Hammerstone, which won the Trustus Playwright's Festival in 1994 before it went on to be performed in seventeen states, to 2018's evocative Boy About Ten, Tuttle allows us to peek into the miracles and mundaneness of his characters, many of whose lack of adherence to normalcy is the most normal thing about them.
---
Praise for Man with Two Shadows
"Jon Tuttle knows how to tell a rich theatrical story, and he does so with characters who are truthful, complex, and unexpected. This volume is not only a complete collection of Jon's work that premiered at Trustus Theatre in Columbia, SC, but a testament to the rare connection of a playwright to a theatre and its community. While we often tout Tuttle as a great Southern playwright, he is, in actuality, one of the finest contemporary playwrights in America. Through incredibly specific and inviting narratives, Tuttle explores the human experience by examining the universal truths of joy, despair, embattlement, triumph, and the cost of love. We expect that your journey through these pages will be just as satisfying as ours when we put them on our stage."
– Chad Henderson, Artistic Director, Trustus Theatre
"Having a finger on the pulse of the time used to be what was asked of a writer. That would scarcely do today. One needs one's finger on a million pulses. These plays perform that prestidigitation. Jon Tuttle surprises and delights with every line."
– Amlin Gray, winner of the Obie Award for Best Play
"Jon Tuttle is a writer of great humor, compassion and humanity. He writes about people in the midst of discovering each other ad, in turn, themselves. What he finds in them are stories rife with bracing complexity and an aching sadness."
– David Lindsay-Abaire, Winner of the Pulitzer Prize for Drama
---
Author Bio
Jon Tuttle is Professor of English, Director of University Honors, the Nellie Cooke Sparrow Writer-in-Residence, a J. Loren Mason Distinguished Professor, and an FMU Trustees Distinguished Scholar at Francis Marion University in Florence, South Carolina.