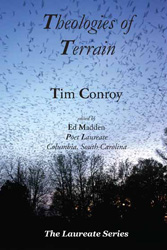 Theologies of Terrain
Tim Conroy
Edited by Ed Madden
$15, from Muddy Ford Press.
---
Muddy Ford Press, announces a new series of books, The Laureate Series, with the publication of Theologies of Terrain by Tim Conroy, edited by Columbia, SC poet laureate, Ed Madden.
The purpose of The Laureate Series is to celebrate the tradition of poetry that is born to South Carolinians and to promote and honor the relationship between mentor and protégé, advocate and postulant, poet and poet.
There will be a launch party for the book on Tuesday, October 10 th at 6 pm at Immaculate Consumption at 933 Main Street in Columbia, behind the SC State House, at which Conroy will read from the publication. The event is free and open to the public.
---
Excerpt from Theologies of Terrain
Marsh Deer
They pratfall a journey
between twisted shrub oaks,
part the blades of saw palmettos,
glide through the last dry tickle
of bristle grass and foxtail.
More like a string
of hooved prayer beads
giving thanks to the wilds,
Their resolve, moss-draped,
asks the dawn for its deepening,
stands under its roseamber wonder.
They tease the surf—
it greets them kissing
with wide smiles and quick legs.
They kick and circle
the white tailed mystery.
What draws them
to the white foam,
to the promise of crossings?
What makes any creature
choose uncertain currents?
Green turtle hatchlings,
bull sharks circling in creeks,
the bric-a- brac of shattered shells,
translucent dreams,
heart-shaped impressions
disappearing on a declivitous shore.
Lives are as fleeting as bird songs,
as long as letting go.
---
Praise for Theologies of Terrain
"'In this dwelling of scars/the history of dirt is blood,' Tim Conroy tells us in this excellent debut. There is sadness in these poems, vivid renderings of childhood abuse and of lives that ended too soon, but the beauty of the natural world is also acknowledged, as is the realization that memory offers consolation as well as sorrow, all of which leads to the poet's hard-earned affirmation that 'love has saved me.' Bravo!"
– Ron Rash – author of Serena, The World Made Street, The Risen, Saints at the River and more
"'In the journey you inventory/all it is you carry,' writes Tim Conroy early on in Theologies of Terrain. These fine poems map a complex and beautiful journey through loss, love, and, finally, revelation. They chart masterfully the complex hills and valleys of grief and memory. They probe at the edges of the mystery of family, maybe the landscape most full of hard, sometimes impassible terrain. There are many beautiful poems here, and we are lucky to have such a collection to map our own journeys."
– John Lane – author of Fate Moreland's Widow, My Paddle to the Sea, and more
"There are so many lovely things in this book. There are poems that break me and poems that resonate long after I've turned the page. I am delighted to help bring this beautiful book into the world."
– Ed Madden – author of Signals, Ark, Prodigal: Variations, and more
---
Author Bio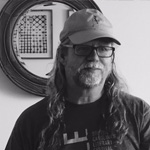 Conroy is a former special education teacher, school administrator, and vice president of the South Carolina Autism Society. His poetry and short fiction have been published in literary journals, magazines, and compilations, including Fall Lines, Auntie Bellum, and Marked by the Water. A founding board member of the Pat Conroy Literary Center, established in his brother's honor, Conroy lives and writes in Columbia, South Carolina.